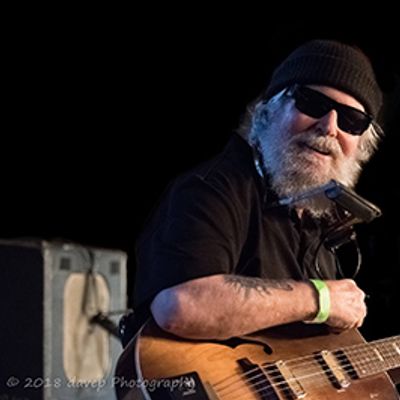 "Paul Oscher plays the soul I feel" - Muddy Waters
Paul Oscher  is a blues legend.    A blues singer and multi-instrumentalist (harmonica, guitar and piano), who  while still in his teens, became the first Caucasian member of the great Muddy Waters Blues Band (1967-1971). 
Paul lived in Muddy's house on Chicago's South Side and shared the basement with blues piano player Otis Spann. Paul played the Chitlin' Circuit and recorded with Muddy for the legendary Chess Records Company. He traveled the world with Muddy. 
Besides Muddy, he has performed and/or recorded with T-Bone Walker, Otis Spann, John Lee Hooker, Buddy Guy, Johnny Young, Johnny CopeIand, Big Joe Turner, Louisiana Red, Big Mama Thornton, Victoria Spivey, Eric Clapton, Hubert Sumlin Keith Richards, Levon Helm  and many others. 
As Muddy Waters harp player, Paul Oscher inspired a whole generation of blues players including Rick Estrin, Jerry Portnoy, Paul Delay, and William Clark. Paul is the real deal, he learned his blues from the masters. He plays only the real, unadulterated, down-in-the–alley, gutbucket blues. He is not a retro player. He just plays the blues the way he learned them… lowdown and lonesome and has been doing so for the last fifty years. 
Paul is working on a book about his life in  the blues.  He is also on the Board of Directors of  the non-profit organization "Muddy Waters' Mojo Museum" making Muddy's  Waters south side Chicago home into a museum. 
Paul Oscher resides in Austin, Texas and can be booked as a Quartet, quintet or sextet
"Paul Oscher plays the soul I feel." - Muddy Waters 
"... Classic Chicago Blues…his blues has the bite and gravity of the tradition he upholds." - John Pareles, The New York Times 
"… a deep satisfying blues experience." - Critic's Choice Billboard 
"Paul Oscher's a monster - harp, piano and guitar - plays slide like Muddy." - James Cotton 
"...he plays old-school blues without sounding retro, nor like he's copying anyone. After all these years, Oscher sounds like he's doing something entirely new." - Texas Monthly May 2017 
"This is a man who has spent his life steeped in the blues tradition and it shows." – Juke Blues (UK) 
"This former member of the great Muddy Waters Blues Band not only channels the guitar sound of Muddy Waters, piano of Otis Spann, he's got the deepest toned blues harp this side of Big Walter Horton and is a fine songwriter in the classic blues tradition. Paul Oscher is one of a kind.  - Scott Dirks, author of Little Walter's biography, "Blues With A Feeling"
Artist At Work
Sample Videos 1 Woodsongs ole time radio show 2 Belgium 3 Riverfront blues festival 4 playing Bass Harmonica
16 minute Documentary about Paul Oscher by Jordan Haro